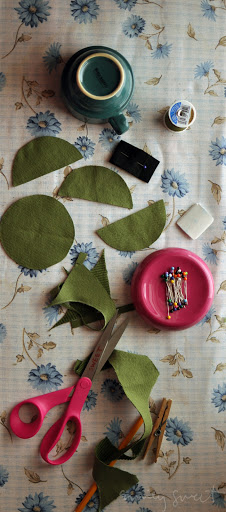 it's birthing season, methinks.
so many of our friends' kids have been celebrating milestones lately.
first
birthdays
zero birthdays*
zero birthdays soon-to-come**
and
fourth
birthdays.
like lilly.
lilly is a gal whose curls look precious with a flower clip. her mom, my friend,
kim
, always seems to find the cutest bows and flowers for lilly's hair. so when we got her birthday invitation, i knew just what she—and her mom!—would like. i got a great tutorial from
anniescupboard
for a fabric flower clip. it's super easy to follow.
'course my growing pile of scrap fabric didn't hurt anything, either.
*zero birthday = the day a baby is born. yes. just like your nerdy math book used to start at chapter zero, so do our lives.
**zero birthday soon-to-come =
if
a zero birthday is the day a baby is born,
then
a zero birthday soon-to-come is . . . yup.
for shots of the process,
anniecupboards
documents it well. i used a standard-sized coffee cup for my circle pattern.
i'll leave you with the end result. which, suffice to say, i was very, very tempted to keep. i forsee my own flower clips. perhaps created with a larger cup pattern. or i'll bust out the compass. yes. i do still have it from freshman high school geometry.
and my TI-89 calculator, if you're interested.
and here's the birthday girl.